Yoguely is reader-supported. When you buy through links on our site, we may earn an affiliate commission. Learn more
Eduardo Lopez — Business Systems Documentation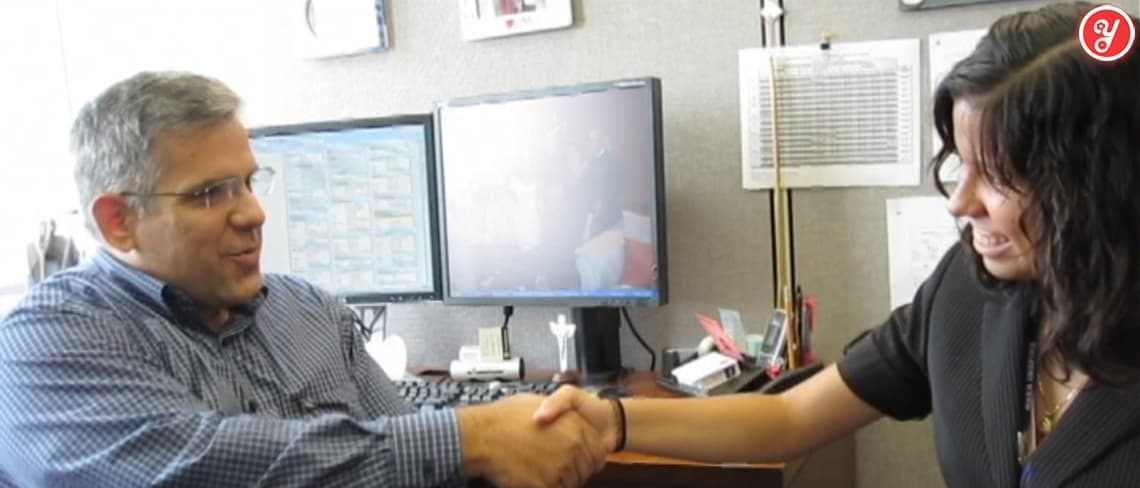 Today you're going to learn what it is like to work at NASA as a mechanical engineer in the business systems field.
Specifically I'll share with you an exclusive interview with the Business Systems Documentation Manager at the NASA Kennedy Space Center.
So if you are wondering where a degree in mechanical engineering can take you, you'll love this interview.
Let's get started!
Interview with NASA KSC Business Systems Documentation Manager
Aida: Hi, my name is Aida Yoguely and I am a high school senior interning at the John F. Kennedy Space Center.
As part of the NASA INSPIRE program my summer project consists of creating a Web Portal for the Business Systems Branch.
Here I work with highly qualified and motivated NASA engineers and scientists.
Today we shall be meeting my mentor.
Aida: Hi
Eduardo: How are you doing? Welcome to my office. Welcome to my cubical. I'm fine.
Job Role at NASA
Aida: So, what is your name, occupation, work area?
Eduardo: Ok my name is Eduardo. My occupation I am by training, I am an engineer, a mechanical engineer, but my occupation here at the Kennedy Space Center is, I am a business system documentation manager. I am responsible for the accuracy of the business systems documents for the Kennedy Space Center.
How Long Have You Worked at NASA?
Aida: How long have you worked here?
Eduardo: In this office I have been for 3 years, a little over 3 years in this particular position.
Aida: What about at NASA?
Eduardo: NASA… I have been with NASA for 25 years.
Where Are You From?
Aida: Where are you from?
Eduardo: Well, that is a good question. My parents told me that I was born in Cuba.
What Degree Did You Pursue That Helped You Work at NASA?
Aida: What was your major in college?
Eduardo: My major was Mechanical Engineering. I have a bachelor's and a master's in Mechanical Engineering.
Aida: Wow, that's great.
Biggest Obstacle in Your Engineering Career
Aida: What is one of the biggest obstacles you've had as an engineer in your Career?
Eduardo: Well one of the biggest obstacles in my career has been to do with the fact that Spanish was my first language and when I came from Puerto Rico, from high school, my English was very weak. Going into an American school, with bad English. The language was one very tough barrier.
How to Get a Job at NASA
Aida: How did you get your job at NASA?
Eduardo: My job at NASA was through the placement center at the University. They had many employers coming in interviewing people and several programs. I was going through a bunch of interviews when I saw an announcement for NASA looking for what they call a graduate Co-op. That was for a position for a graduate student.
In particular, they were looking for mechanical engineering graduate student that was interested in working 6 months with NASA and then going back to school to finish their degree. NASA was interested in that collaboration with the possibility of a permanent job after I graduated.
Aida: Sounds like a great program.
Eduardo: I loved it! I went to apply, they picked me. I did my time with NASA and my time at college, finished my degree, and they extended me an offer. I said yes.
Biggest Influence in Your Engineering Career
Aida: What would you say has been the biggest influence in helping you become the person you are today?
Eduardo: That is a difficult question. From my professional and career point of view, I have to definitely say my family and the support of my family because there are many sacrifices that they have to make.
What would you like to be doing 5 years from now?
Aida: What would you like to be doing five years from now? Or maybe ten years?
Eduardo: I think one of my goals is to learn enough about what I'm doing and all the responsibilities that a supervisor has at the center to be able to become a supervisor of a small group whether it is a technical group, a design group, or a group that deals with business systems, the kind of work that I am doing right now.
That would be probably a short term goal.
Ten years from now, I think I could be contemplating retirement.
Advice for High School Student Interested in Business Systems
Aida: What advice do you have for a high school student interested in your occupation?
Eduardo: You have to study. There will be some assignments that you really don't like. That you are going to have to do and you are going to have to do well because other people will depend on that and in school is just for you to get a general education.
Aida: Well thank you very much for your time Mr. Lopez
Eduardo: You are very welcomed and it was a privilege to have you here and thank you for all you have done for us. Keep up the good work.
Video
---
Eduardo Lopez — NASA Business Systems Documentation Manager | Yoguely
Be sure to subscribe and hit the notification bell to stay tuned for the latest videos.
Latest posts by Aida Yoguely M.Sc.Eng.
(see all)