Yoguely is reader-supported. When you buy through links on our site, we may earn an affiliate commission. Learn more
Dr. Justin Jones — Microscale Materials and NDE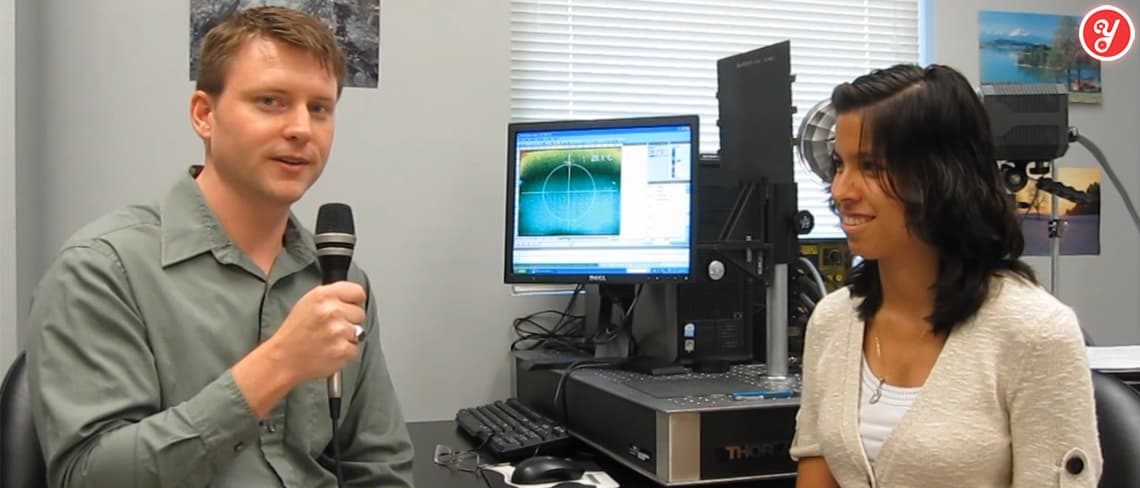 Today you're going to learn what it is like to work at NASA as a mechanical engineer in the materials engineering field.
Specifically I'll share with you an exclusive interview with a materials engineer at the NASA Goddard Space Flight Center.
So if you are wondering where a degree in mechanical engineering can take you, you'll love this interview.
Let's get started!
Interview with NASA GSFC Materials Engineer
Aida: Hi my name is Aida Yoguely and today we are meeting my mentor Dr. Justin Jones.
Hi Justin!
Justin: Hi how are you?
Aida: What is your occupation here at the Goddard Space Flight Center?
Justin: My occupation is a materials engineer and I support Code 541 which is the materials engineering branch.
What Is the Role of Material Engineer?
Aida: Can you describe your job?
Justin: Sure! My job is direct support to the materials engineering branch by doing a combination of non-destructive testing and microscale testing of materials.
One example of that would be this nice microscale test machine.
Aida: How long have you worked here?
Justin: I have worked here approximately two and a half years.
How Do You Become a Material Engineer?
Aida: Where are you from and what was your major in college?
Justin: I am from Chester, Virginia and my major in college was mechanical engineering and I went to Virginia Commonwealth university. After that I worked for a short time and then went to graduate school at the Johns Hopkins university in Baltimore, Maryland. That is where I did my masters and PhD in materials science and engineering.
What Jobs Can You Get with a Materials Engineering Degree?
Aida: Could you give us an overview of your professional career?
Justin: Sure! I mentioned that I worked a short extent after my undergrad and that was at a company called Philip Morris. Philip Morris actually manufactures cigarettes. I do not smoke. I do not recommend it but it was a fun company to work for. That is what first introduced me to the field of non-destructive evaluation. We were actually looking for a way to make cigarettes safer by not having them combust or catch things on fire if you drop them.
After that I went to graduate school where I spent a long years focused on microscale testing of materials.
My current job is a combination of those two histories.
Is Material Science Engineering Hard?
Aida: What is one of the biggest obstacles you've had as an engineer?
Justin: One of the biggest obstacles I've faced was actually when I was in graduate school and I was only a few months away from defending my PhD, and I was having some significant challenges, technical challenges with an experiment that I was running and everything I tried failed. I could not figure out how to make the experiment work.
The other challenge that comes to mind is when I left graduate school I was in that mode of research and focus and really identifying something and exploring it to the finest detail. When I came here to NASA Goddard ,it is a very application driven workplace. So a lot of what we do is called project support, so Hubble telescope, James Webb telescope, a lot of the satellites that revolve around the earth, those are projects that continually need support on a timely manner. So it is a little different culture and it has taken at least the two and a half years that I have been here, plus more probably, to really figure out how to strike that balance. Getting out good results, not trying to spend too much time into the real details.
How can I get job in NASA as a Materials Engineer?
Aida: How did you get your job at NASA?
Justin: It always goes back to me to networking and mentors. One of the mentors I had was a professor in college Dr. Greene, and he was a world-wide expert in the field of NDE, non destructive evaluation, he introduced me to another gentleman who worked at NASA Langley, and then he invited me down for an internship at NASA Langley. That got me really fired up about NASA and after that I didn't want to do anything but come back and work here again.
That planted the seed and grew contacts from that gentleman. He knew people here (at Goddard). When I finished school and was looking for a job, I already knew some of the individuals here through my network. And so I contacted them, submitted my application, I got asked for an interview, and now I am here.
Where Do You See Yourself in 5 Years?
Aida: What would you like to be doing five years from now? Maybe ten years?
Justin: I would like to be working here. I would like to have a lab, or maybe more than one lab, in charge of a few projects related to materials inspection or NDE, and I would like to have an influence on some of the technologies that NASA develops and especially that Goddard acquires.
Who Has Been the Biggest Influence on Your Life?
Aida: What would you say has been the biggest influence in helping you become the person you are today?
Justin: I would say the biggest influence for me has been mentors. Those individuals really taught me a lot about engineering and about finding what I want to do in life.
Aida: What advice do you have for students interested in your occupation?
Justin: I would say most important first step is get a good education, study hard, don't slack off, make sure you have the right tools in your tool box to do what you want to do.
Video
---
Dr. Justin Jones — Non-Destructive Evaluation (NDE) and Microscale Testing of Materials
Be sure to subscribe and hit the notification bell to stay tuned for the latest videos.
Latest posts by Aida Yoguely M.Sc.Eng.
(see all)