Yoguely is reader-supported. When you buy through links on our site, we may earn an affiliate commission. Learn more
Vicki Mazurek — Integrated Site Support Manager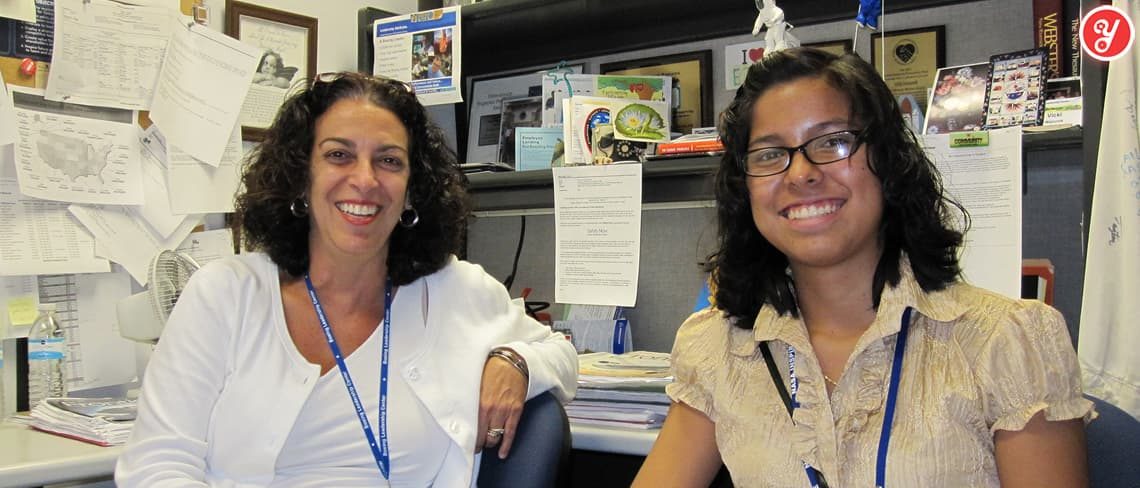 Today you're going to learn what it is like to work at NASA as a Business Administrator in the information technology field.
Specifically I'll share with you an exclusive interview with the Boeing Integrated Site Support Manager at the NASA Kennedy Space Center.
So if you are wondering where a degree in business administration with a minor in computers can take you, you'll love this interview.
Let's get started!
Interview with NASA KSC Boeing Integrated Site Support Manager
Aida: Hi my name is Aida Yoguely. I am a interning at the NASA Kennedy Space Center, working with Boeing on the Computer Assets Recovery Project. Today we are meeting my mentor Vicki Mazurek.
Job Role at NASA
Aida: What is your occupation here at the Kennedy Space Center?
Vicki: I have responsibility here for the Boeing Computing Desktop Support for the Shuttle program and the Space Station program. Very exciting.
Aida: What do you do in your job?
Vicki: As I mentioned, because we are involved with Desktop Support, it is all computing support for about 400 employees here, that work for Boeing at the Kennedy Space Center and anywhere from email problems, computing problems, printing and such there is a group of about ten folks that do the support and we have a busy day every day.
How Long Have You Worked at NASA?
Aida: How long have you worked here?
Vicki: I have been here at the Space Center since 1989. Few years here.
Where Are You From?
Aida: Where are you from?
Vicki: Originally, I am from western Pennsylvania. I arrived here to Florida in 1985.
What Degree Did You Pursue?
Aida: What was your major in college?
Vicki: I went to college in Ohio and Pennsylvania and my major was in Business Administration with a minor in Computers but this was way before personal computers.
Career Path to NASA
Aida: Could you give us an overview of your professional career?
Vicki: I got here in 1985. I worked locally for the community college here in Brevard county and worked for 3 years on a computing contract where we provided computer instruction for McDonnell Douglas employees. That was back in the days of DOS, the first Word and Excel.
We basically setup some computer classes, classrooms for these employees as they were transitioning from one contract to another and I did that for 3 years and then once the contract was over I ended up working for McDonnell Douglas, which then became Boeing.
I started out with them in 1989 doing computer training and then I moved into management shortly there after. See, my BlackBerry's buzzing and now she (Aida) is laughing because…
Aida: That is how busy my mentor is.
Biggest Obstacle in Your Career
Aida: What is one of the biggest obstacles you've had in your career?
Vicki: Probably from a computing management standpoint it always seems to be providing customer service but being affordable. So those two things are at opposite ends. We are always trying to give excellent service but we are also being asked to always keep out costs down and that always involves reduction in labor and those two things compete.
Biggest Influence in Your Career
Aida: What would you say has been the biggest influence in helping you become the person you are today?
Vicki: When I think about that I go back to my upbringing and my family a good strong work ethic but also a very clear understanding that you have to have a good work-life balance. Work is very important, it's very rewarding but family first. Your family and personal life has to take a priority making you be the person you are.
Aida: Who helped you in your career? Like the biggest help you have received.
Vicki: Probably early on my first manager, when I became a manager, gave me real good advice about something that I've always remembered. When making decisions make sure you analyze the information and make a good decision, but also try to look at it from your manager's position or director's position.
Look at it from a bigger picture view and don't make the decision being just focused on what's best for you and your group but also to look at it from a company's standpoint, an organization standpoint, and that's really been a very useful information and advice that I've received way back when.
What would you like to be doing 5 years from now?
Aida: I see. What would you like to be doing five years from now? Maybe ten years?
Vicki: I did think about that because as most folks might know, the Shuttle program is coming to a closure. So I would like to, in the next five years hopefully see it to a good closure and possibly in the next ten years or so be working on a second career maybe in a non-profit area or something socially focused. English as a second language, I've taken some classes there. So I am trying to look at what I can do in my pre- post- retirement years, a second career.
Advice for High School Student Interested in Information Technology
Aida: What advice do you have for high school students interested in your occupation?
Vicki: If it's the occupation of being an IT professional, I would give students advice that they should not try to be just totally techy but that you have to have good communication skills, be able to interact with people and work well with the customers. You can't just be totally techy.
From a management standpoint also is to focus on building long term relationships with people. You'll want to build relationships with the people you work with, the employees, the coworkers. Because that is really the substance of a good work relationship.
Aida: Well, thank you very much for your time and for all the support you've given me during this summer.
Vicki: And thank you very much Aida you've been very helpful and everybody has enjoyed working with you and we wish you well in your future.
Video
---
Vicki Mazurek — Integrated Site Support Manager
Be sure to subscribe and hit the notification bell to stay tuned for the latest videos.
Latest posts by Aida Yoguely M.Sc.Eng.
(see all)